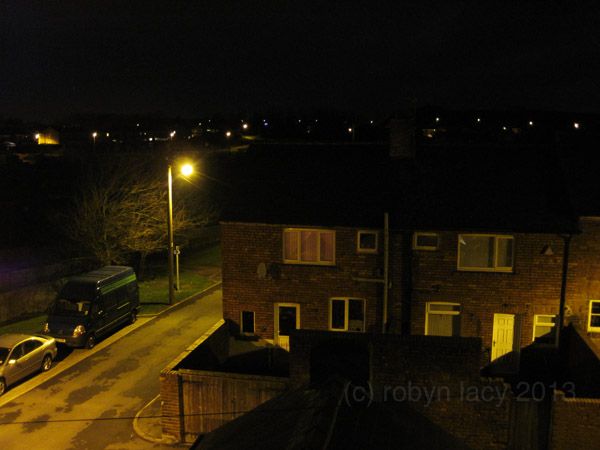 I was attempting to print out a document on the tiny HP printer that doesn't really work this evening. I re-located the printer to the loft because
a) I took apart the little bookcase during mock-packing and didn't have another place to put it.
b) It's not the most useful printer in the world, so it can just go upstairs now~
I managed to print the document..however the printer decided that not only was it going to continue to print in blue, but it would only print the top half of each line.
While it was doing that though, I hung my head out the opened sky-light and took some pictures. I love how you can get a feel for how the area would have been during the time of the coal-mines. Honestly it wasn't very long ago, but I'm still impressed that some of the features of the area have maintained themselves, such as the little coal doors on the sheds in the alley way, and the original cut-nails in the floorboards of my bedroom. When I eventually go back to Canada of course I'm going to miss all the big things, but the little details like that are really going to be missed as well.
I still don't know how much longer I get to stay in the UK for. I'm trying my hardest to stay for the summer, or at least for June. There are a variety of reasons, but a major one is that I just don't want to waste my time here that, through my visa, allows me to work and be a temporary legal-living person in the UK! It's great, and I love the north east. Don't get me wrong, I'm excited to go back to Canada and see everyone and go on Calgary adventures with people and move into the awesome condo with Amy. It just doesn't feel like it's time yet...
Though with unemployment rates for students being rather high this summer I'll be taking the best job I can manage, I guess? Tomorrow I'm writing and emailing off an application for another job that doesn't have any issues with the end date of my visa, which is awesome, so fingers are crossed for that! They are also crossed for the Calgary Heritage Park to email be back to say they want me full time as a curatorial assistant...because that would be good too!
Oh job hunting.. At least I'm getting lots of experience doing interviews over Skype. loooots.