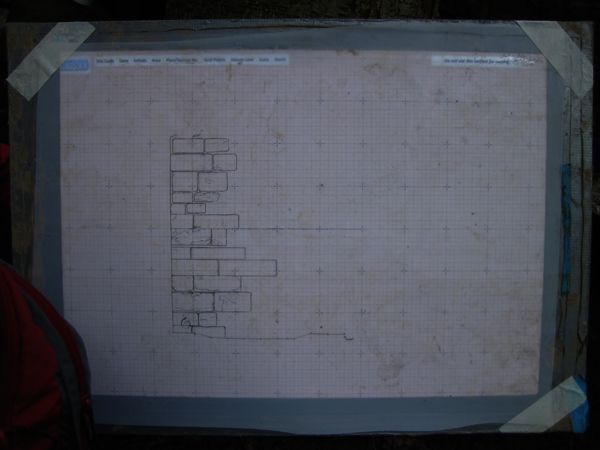 When I looked out the window this morning, there was frost all over the cars and grass. This was alarming, because it was another outdoor-for-ages surveying day. I bundled up, and was able to wear my warm hiking boots this time (don't have to worry about metal if you're surveying with a pencil) and got a ride into town with my friend Mark (thank you!). Good, I hate waiting for the bus when it's not even 8am yet, and the bus is late..and I probably could have slept a bit longer.
Got into town, and adventured to an interesting graveyard near Claypath that had some gravestones being terribly looked after, but the piles of vines made them look like Daleks in hiding, and a small chapel that was filled with windows and nothing much else. Met up with the rest of the surveying class, and we all headed into the castle.
I was far, far too excited to go in there! You have to get a tour to go in it seems, unless you're with someone who lives there...and so this was my first time actually get to go inside! Oh and it was just fantastic. We got to go into an area that students aren't usually allowed to be in as well, where one of the Bishop's (I believe?) garden used to be. We were surveying a wall that is currently being restored because people a while ago re-pointed said wall with materials harder than the sandstone bricks..and they are just in a terrible state now. But you could see various stages of building along the wall, as well as different periods of restoration to the building. It was really cool (both meanings) and not unlike all the site-planning I did in Ballanorris in 2011...which was nice because I had a bit of background, unlike with the geophysics machines last week!
It was a really fantastic day, and after lunch which I ate in the company of a load of small birds which joined me on a bench, we got to take a tour of the castle with another fellow in the class who lives there and is one of the tour guides as well! It was amazing, and we got to go all the way into the C12th Norman chapel, which is what I'd been wanted to see since my very first day in Durham. I loved how high the ceiling was, compared to the relatively small room~ Unfortunately we weren't able to take photos inside the castle, but I can say that we found out that the Great Hall of the Castle was used in Harry Potter too. Aw yeah~
Also, the Castle has the country's oldest still-working kitchen! The screen in front of it is from the end of the C15th as well, which is just..ugh...so cool. I was grinning for the entire tour~