As the year comes to a close today, I thought I'd better reflect on everything I've done so far!
-2012 started out for me in my family's house back in Canada. Jim was visiting and we were going on crazy skiing adventures and eating lovely things all the time!
-We then had to go what is still the worst flight I've ever had to be on, and I was sick, and we had to sit around in the airport for at least 30 minutes until Jim's nerves had calmed and I felt able to stand again without being ill.
-I applied for a Research Grant!
-Jim went back to Wales and I was very sad, but had to get on with uni work. I also had to take a taxi home from the airport on my own, which I never like.
-Got accepted to study at Durham University for the academic year of 2012/2013. Moving to England!
-Did archaeological illustrations for academic publication, and got paid for it. Looks who is breaking into a field~
-Was turned town for my research grant, but put on a waiting list, and began to get worried about how I would finance my 3rd year.
-Miraculously was given the Research Grant! Suddenly I had to actually get my project pulled together and prepare for working in Wales and Ireland.
-Turned 20, and went to the zoo and the Kensington Pub with my lovely Calgary people
-Finished my second year of university, and thus half of my degree was finished! Whoa!
-Went back to my family's house for a few days to pack before leaving for Wales.
-Worked in Wales on my research project, before going to Ireland with Jim to be supervisors on an archaeological field school. This job took us to the Isle of Man after two weeks, where Jim was a supervisor in the graveyards again while I went off and acted as a project illustrator/learned AUTOCAD enough to seem like I really knew something about it! (I can make maps!) Headed home after 2.5 months of all of that.
-Spent the rest of the summer compiling data and writing a paper, while working at the Henna Hut.
-Had my wisdom teeth removed, and had an anxiety attack in the doctor's office. Yay me...Also, Christina came to visit and we had coffee in some lovely cafes!
-Went to Vancouver Island to camp with my family, and spend some time in Victoria with my friends from Elementary School. It was so lovely to see them all at once again~
-Convinced Kelsey to get a visa and come live with me in England...
-Some things ended, and they were very hard to get through, and would have been worse without the support of my very close friends. We're all friends now, and it's getting better with time :)
-Road trip to Vancouver with Kelsey! Got her visa application sent away, drove through the mountains in a storm at night because Peachland was on fire, met up with Steve and Ryan.
-Moved to England, and made it all the way to my new house on my own!
-Started 3rd year at Durham University, and managed to figure out the buses and everything. (I'd never been on a city bus on my own before)
-Didn't have extreme anxiety before a presentation in front of one of my classes. Again, go me!
-Managed to hand it work, do more work before it was due, learn how to do some GIS, work with crazy archaeology machines, and sign up for an extra group thing that is helping to create a conservation management plan for a railway museum. Winning slightly at this~ ;)
-Signed up for a 5 day archaeology trip to Malta in March! It can be a birthday present to myself or something.
-Went to Wales for Christmas with Kelsey, and had a lovely time! I even got to climb up a mountain in a rain storm because I was determined to see some round houses on what used to be a hill-top settlement.
...and now it's New Years Eve Day! I think over this year, I've learned a lot about myself as an individual. It seems cheesy to say, but I think I've grown a lot. Really! I have learned how I react in certain situations, and have more confidence in my abilities as an archaeologist and researcher. I know a lot about the fields I'm involved with (including museums!) and I'm learning a lot by being in England now about the fields I'd like to be in one day.
I'm so grateful to everyone who has stood by me this year, family and friends both, it's been tough in some spots, but I think things are going to come out on top.
They always do, right? Right.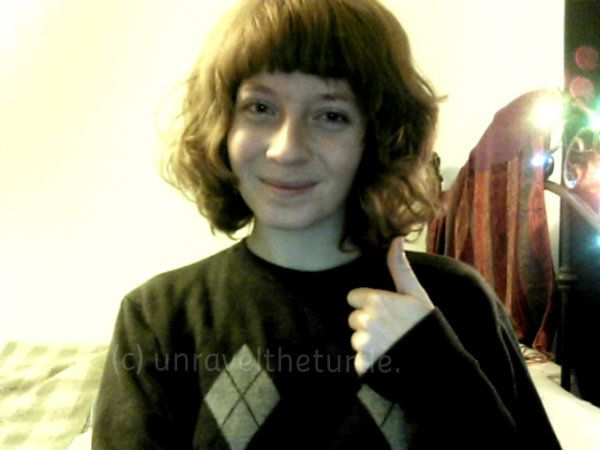 Happy New Year, everyone!