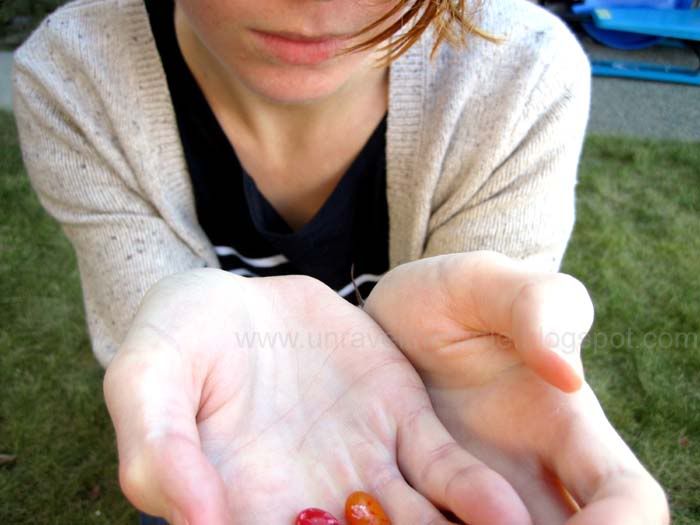 (Tommy Hilfiger wool cardigan, Gap 1969 jeans, Gap top, shoes?, handmade bracelet)
Not with a fizzle, but with a bang does the year leave us behind! And so begins another, as the circle continues to turn and we welcome it duly. A fresh start for things gone by, and new doors opening all around us.
Oh, but it is exciting!!
Two-thousand and ten was a very, very,
very
eventful year! Lets make a list of all the interesting things I've done this year, shall we?
-Travelled to Whistler and Idaho for Band trips.
-visited Germany, Austria, Italy, Switzerland, and France on a whirlwind tour of Europe over spring break.
-Turned 18 while in Europe, and spent the afternoon eat pizza in a park in Verona, Italy, before heading on to Switzerland in the evening.
-Graduated from high school!!
-worked at the Henna Hut in the summer, and had a lovely time.
-Visited friends on the Island.
-Went sailing on the Pacific Swift with my brother.
-Went camping on the Oregon and Washinton Coasts, camping with my family.
-Moved to Calgary, and started university!
-joined the UofC Rowing team, and attended 4 different regattas
-Got my ears peirced (whoa, who saw that one coming?!)
-Figured out how to watch movies with people who live far away, and had a fantastic time relaxing before my last final!
-Survived my first semester of university, and had an awesome time in Archaeology~
-made it to the airport on my own, and flew back home for Christmas.
Guess who had a fantastic time?!
I did!
Thank you to everyone who helped make this year just the most fantastic thing ever! I really hope to see more of my friend who live away from me in the new year, and I totally know that will happen. Travel will happen, for sure!
Brandon, we need to watch 'Benny and Joon' before this year is over!
:D
Happy New Years, World!