I looked at the date today and noticed that Saturday is May first! How in the world did that happen? ..I guess when you're the type of person that never checks the date unless something is going on (and sometimes not even then), things like this tend to occur an awful lot...regardless!
May means that summer is getting closer, and with summer comes +35.C weather and up. I really dislike the heat!
First on the agenda....um....yesterday's outfit.
(I forgot to take pictures until 11pm, I'm sorry! )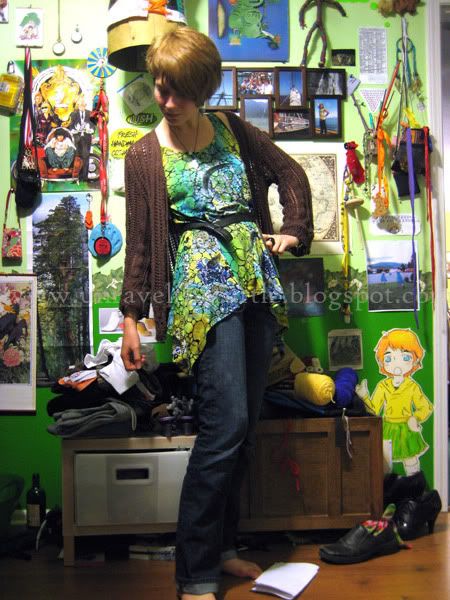 (Old navy jeans, thrifted sweater, DIY belt, Bellina tank top, necklaces from New Zealand and Italy)
I really like the cut off that top. It's a triangle! How more amazing can a shirt get? My brother said it's a triangle to draw attention to my face. (art stuff..right?)
Now..this is sort of a silly picture below, my friend Brandon suggested a while ago that I wear animal print, a suit jacket, and a sombrero. (it's s sun-hat..but shh)...and..here we go:

(I hope you're happy Brandon!)
--> and as you can see by both of those photos, I have a LOT of stuff in my room, and on my walls. a lot. :D
...and now, the actual point of this post, because if the clothing isn't exciting enough I have some history to blather to all of you about! Sit back, and get ready for what I have decided is the
GREATEST THING IN THE UNIVERSE
.
I'm not even kidding. I almost cried (really!) when I found this out~ Here's the story.
I was on my spare block this morning, sitting around in the computer lab playing on facebook, reading blogs, and wondering why youtube wouldn't load so I could listen to some Hey Ocean while I read over my Spanish sketch for later that day. I decided to look up more information on Sir. Ernest Shackleton, who has become my personal hero, and one of my favorite people of all time. (I have a mug with him on it in my room..)This is what I do with my time. Anyways! I was reading things about him and decided to learn something about his ship the HMS. Endurance. I found out that she's a barquentine which was build in Norway and launched in 1912. On Shackleton's famous Antarctic expedition, she was trapped in the ice, crushed, and sunk. ): While reading about the ship, I noticed a small passage that read something like "Expedition lead by David Mearns to find HMS Endurance expected in the near future."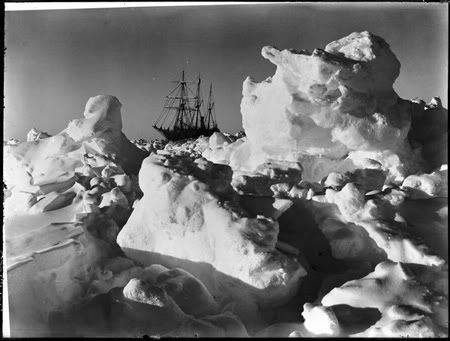 I gave a small scream of joy, and went to the man's website.

Sure enough, on the list of upcoming missions for ships he's going to attempt, the HMS Endurance was right at the top! I quickly searched down his e-mail and started planning out an amazing letter to write to him, as I dearly DEARLY want to join the mission. Somehow, someway...
Lets take a checklist of things that are darn important to me:
-family and friends
-the ocean
-archaeology
-trees
-exploring
-the Antarctic + Shackleton
-ships.
Begin able to go on that mission would check off some many things on the list of things I care about, I would be jumping about with glee for the entire trip!
:o
have a good day!