Hello everyone!
I'm back again for the next....4 days or so before I fly off to Vancouver, and then Munich, Germany, at the end of the week!
Overall I think I had fun on the trip~ Our band played pretty well, and although some of the notes in my solo (song. I had to play most of a song on my own) were shaky, the 2nd trumpet said it probably wasn't too noticeable. I hope. We weren't playing competitively though so there wasn't too much pressure. It was nice!
One not so wonderful thing was that our hotel double booked the suite that the 5 of us girls were supposed to be staying it, and the only other rooms left that night were smoking rooms. I took a step into ours and backed right out again, it was that horrid. We knew that we couldn't sleep in there and actually be alive in the morning, so we slept in one of the guys' rooms on the floor. I think I have bruises from that..but...the floor was way better than not being able to breathe all night long! haha~
(we only got 3 hours of sleep that night...ended up talking all night. fun times!)
Anyways! Enought of my silly stories, have some pictures~
My brother actually picked out this sweater for me. It's not a very good picture, but the sweater is nice and baggy, and very comfy. And it was on sale to boot!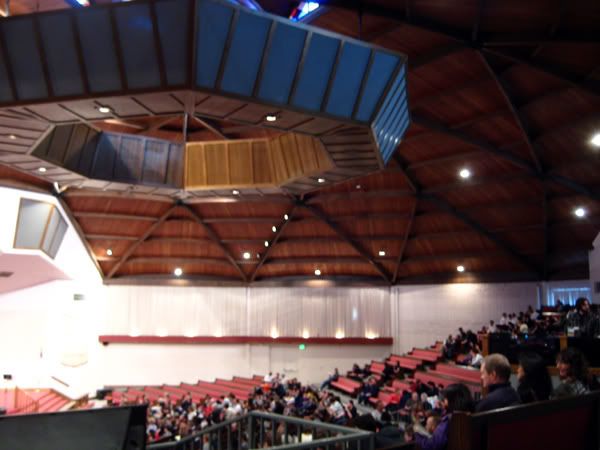 The frightening, round, Church of the Nazarene. What kind of name is that? It reminds me of the Nazgul from Lord of the Rings. We all fell asleep here, even though there were some very hot bands playing.
We were very tired people, so after lunch and a short wander around town, we plunked ourselves down on a bench in the sunshine! My brother was pretending to be a hobo while we sat on a bench. (on either side of me, my friends Allison ans Sam)
Banner in the street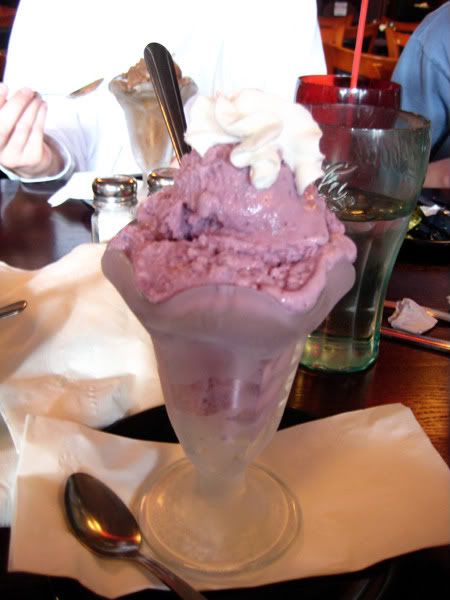 Wonderful huckleberry gelato. (at least that is what they called it. Huckleberries to me are small and red, so this was really blueberry.) Not as good as the stuff in Italy of course, but made at the restaurant and just what I needed!
Our bass player wrote that on the whiteboard in the room we warmed up in before our performance on Saturday. I thought I'd add it in at the end here before I mention that CANADA WON GOLD FOR HOCKEY! YAAAAAAAAAAAHRRGFGDHGHE!!!! Heck yes! We stopped driving home today and sat in a restaurant for two hours to eat lunch and watch the game. It was the first (and only) Hockey game I'd ever seen and we were all just so happy to win. bwaha!
And when I got home I found out that we won more gold metals than any country has ever won at an Olympic winter games, and we did it at home too! It's a good time to be Canadian, apparently! :D
Also, I now have 20 followers! Yay! you guys are awesome, thank you so much for talking an interest in this little blog!