So I've been nursing the ides of getting a shop on Etsy.com everyone! I'd probably sell hats, and random other crochetted things. The store would be called "Question mark, period" ... or " ?. " as it would say on the tags inside the hats.
I bring this up because I'm bringing you various pictures of other hats I've created! My favorite one is the first one posted here, because I just made it the other day, crochetting frantictly because I was so certain I was going to run out of yarn! But I didn't, and managed to have the two colours spiralling together around the hat to create the lovely..um...stripes? I'm stoked that the weather is getting cooler (FINALLY!) now, so I'll actually get to wear some of these lovelies!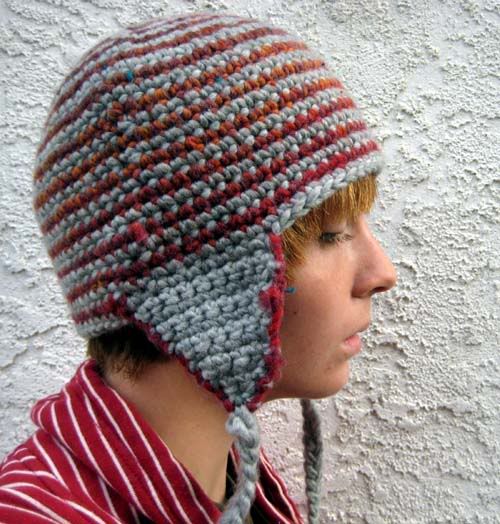 There...see? It's wonderful! haha I'm far, far to proud of this hat. The tag inside is navy blue, with a gold coloured ' ?. '.
This next one is a hat I knitted for my brother last Christmas season. When I took the picture, he had actually just come back from a SCOUTS Canada camp, so it made my hair smell like a campfire. (not to mention I think he'd worn it non-stop for the past 3 days...ew.)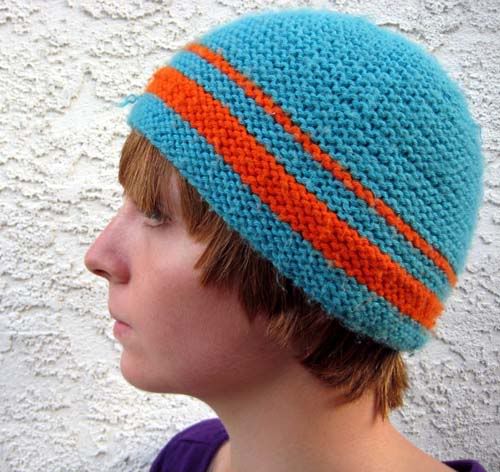 Um...this one is knitted too.. I actually don't like it at all. It's strange feeling..and I don't like the wool. What was I thinking?!
There we go! I made this hat for my wonderful friend Sam, for her birthday! It was made especially to her specifications (I probably spelled that wrong...), down to the last detail. I really love the buttons she picked out, and was glad when i actually managed to find them in a shop. When she said "oh, and a giant pink and lime green set of buttons on one side.." I didn't think I'd be able ot get them! But I did! so...DON'T LOOK SAM!! DON'T LOOK! :O
(The first hat here is my reaction to wanting to keep Sam's birthday hat...I needed one too. That grey wool is so nice and fluffy! <3 )
aaaand...Here is my outfit of the day! I had a spare first this thing morning, and actually had some time to think about an outfit for once~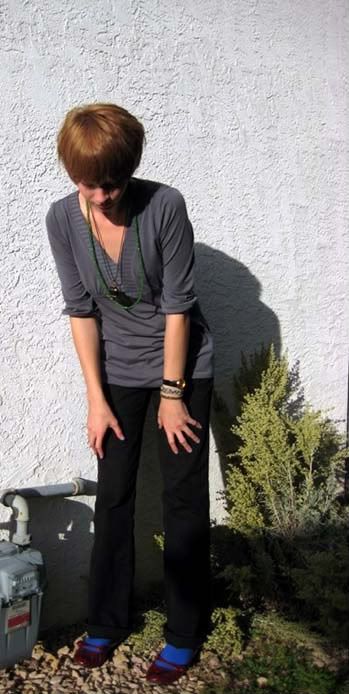 (
RioRain shirt, Dynamite pants, Tristan blue tights, American Eagle flats, TIME Magazine watch, DIY wristbands, handmade necklaces.
)
and yes...that is a sage-bush beside me...
I also might have a painting job coming up...which I'll be sure to take pictures of. (University funding! yah!)
Also Also (This feels like the P.S. of a long letter, where you just don't want to say goodbye so you keep filling up the pages with nothingness, but in this case it's because I have to study for a math test I have tomorrow and I really don't want to but...um...yah..) h
...aha. Yes, so also, in my art class we are starting a form of Print-making where we use old X-Ray sheets and cut into them with sharpened nails, which isn;t the safest things for some people I know, but it's looking pretty cool. I'm just doing a test image right now, but I sort of decided to do Brooke, from the awesome blog "The Fashion Void that is DC" http://moohoop.livejournal.com/ because I really admire her hairstyle choice, which lends an amazing profile, which I thought would make a lovely print. I hope she doesn't mind! ^^;
I'll be sure to post a picture of that too...and send one to her~